About Us
Centre for Excellence in Telecom Technology and Management (CETTM), an ISO 9001:2015 certified institute, has been established by MTNL with state of the art facilities to impart training in Telecom Technology and Management Studies. CETTM had acquired ISO 9001:2000 certification in 2005. CETTM enables professionals to acquire knowledge and skills to perform effectively in the rapidly advancing telecom and information technology sector.

CETTM has been constantly raising its benchmarks and has broadened its boundaries by imparting training to thousands of candidates across the globe. We provide wide range of customized training in Telecom, IT and Management. We offer an assortment of courses on latest technologies like MPLS, NGN, GSM, 3G, Intelligent Networks, IPv6, FTTH, RedHat, Oracle and various management courses to corporates, students and professionals from India and abroad. We have numbers of Telecom and IT Technology Labs, with latest equipment, for hands on practice by participants.

CETTM also offers world class training infrastructures to corporate and institutions to meet all of their training requirements at very economical rates. We offer Lecture halls, Conference Hall, IT Lab's, Auditorium and Residential facility for conducting training, workshops, seminars to cater to all types of training needs.

CETTM is strategically located at Hiranandani Gardens, Powai, Mumbai, India and is easily accessible. It also enjoys close proximity with international and domestic airports.

Vision

To be one of the preferred "Telecom Technology and Management Training Centres" in Afro Asian Countries.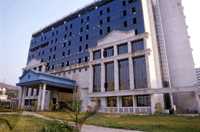 Mission
To develop leadership competency in the participants, through quality training to face challenges in the fields of Telecom Technology and Management.
To make world class training facilities affordable to other organizations/ individuals.
To explore, create and develop knowledge through applied and concept research in Telecom Technology and Management.
To hold exhibitions/ conferences/ international trade shows in Communication and Convergent Technologies to promote the industry pro-actively.
Core Values of CETTM
Customer Oriented Approach
Excellent Programes and Facilities
Total Quality Management
Transparency in Dealings
Mutual Respect and Trust
Quality Policy
We, at CETTM, are committed to develop and deliver quality training in the field of telecom technology and management, to meet and exceed the expectations of our customers through continual improvement.